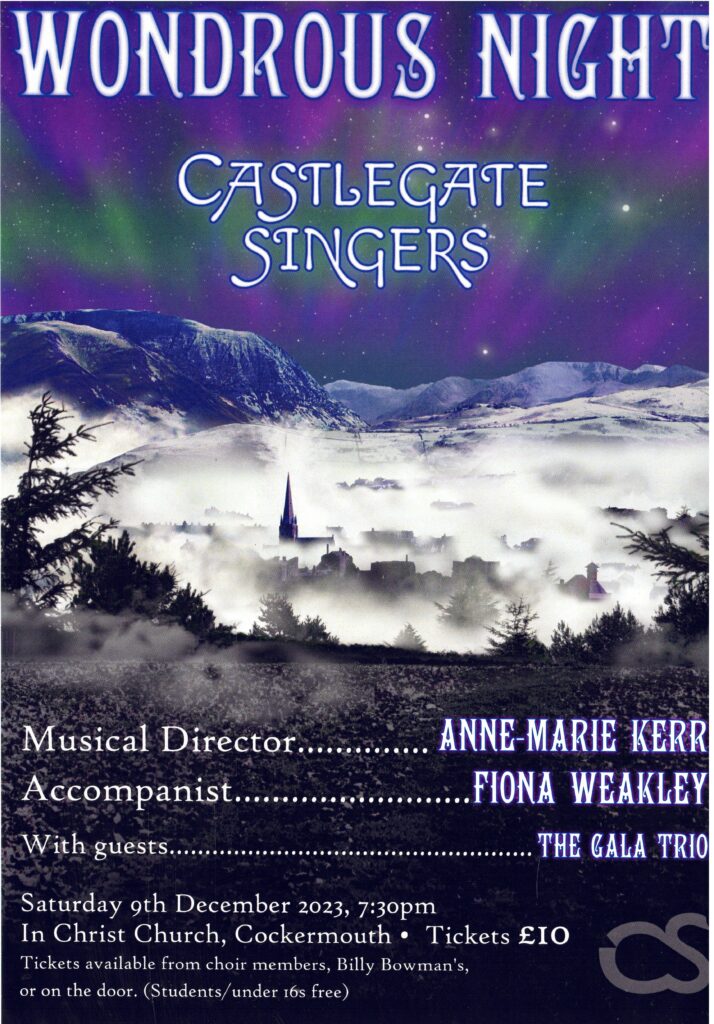 Wondrous Night
Our Christmas concert will be held on 9th December, 7:30pm at Christ Church, Cockermouth. We'd love to see you there! Tickets can be bought from choir members, at Billy Bowman's Music Shop or just send us a message from the Contact Us tab above.
The Castlegate Singers is a women's voice choir, established in 1976. We rehearse in the United Reformed Church in Cockermouth, Cumbria. We practise and perform a varied and vibrant repertoire and our concerts cater for all tastes and occasions. Our main concerts are held twice a year in summer and at Christmas.
The Castlegate Singers is very much a community choir, and we enjoy being involved in local events, such as Cockermouth Live and Daffodil Day. We managed to perform even during the pandemic, rehearsing via Zoom, recording our songs for virtual concerts. Now we are back live, both at rehearsals in the URC and concerts in Christ Church. Our 2022 Christmas concert at Christ Church was a great success, and we are now planning the summer concert, date set for 15th July 2023.
The choir is led by Anne-Marie Kerr and Fiona Weakley who encourage us – mostly amateurs – to appreciate the music and perform it to a high standard.